Introduction :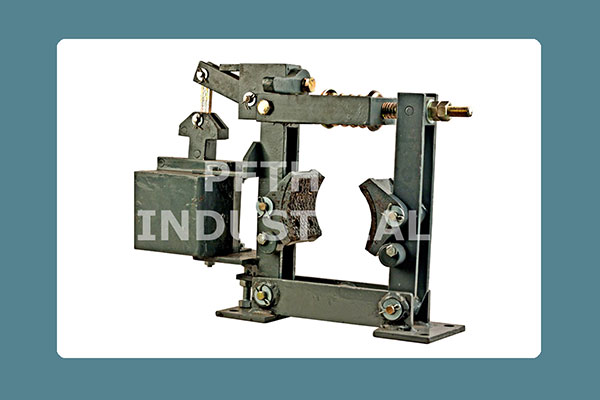 The shoes and the base of brakes are of graded cast iron. Other components are of fabricated steel. The lever is hinged on the main arm, which is connected to the side arm through a tie rd and is stressed by a pre loaded compression spring. The compression of the spring can be adjusted to set the braking torque to desired value. The brake liner is of selected quality material and is riveted to the shoes by rivets. The brake is fail to safety.

The brake is in applied condition in absence of AC current and is released when the supply is restored. High quality lining material ensures consistent braking torque and reliable operation. Clean environment working and less noise are its specialties. Braking torque can be adjusted easily and quickly. Ease of maintenance. Arrangement to release the brake manually is also provided.

We provide a rectifier-transformer for converting AC voltage to DC voltage. These brakes should not be used for inching operation since they are slightly sluggish.
Range :
Drum diameter 100mm to 500mm
Torque Capacity : 3 Kgm to 75 Kgm
Application :
All Material Handling and Lifting Equipments
Hoisting : electric wire rope Hoists and Crabs
Cross travel and Long travel : EOT / Gantry / Goliath / Derrick Cranes
Winches and Conveyors
Lifts and Elevators
Brake Motors
Salient Features :
This is a spring loaded normally ON Failsafe Brake
Consists of Electromagnetic coil, Plunger, Torque spring and Liner riveted to Brake Shoes
Works on 24 / 190 V D supply.
Function is to bring to stop, moving / rotating machinery like motor / gearbox.
Holds / stops the load in desired place. Instant stop.
Robust design.
Consumes low power
Electromagnetic Shoe Brakes supplier and manufacturer
Pethe Industrial Marketing Company Pvt. Ltd. is the leading manufacturer and supplier of Electromagnetic shoe brakes in Mumbai, Maharashtra, Gujarat, Delhi, Pune, Bangalore, Chennai, Ahmedabad, Kolkata, Baroda, Hyderabad, Latur, Nagpur, Udaipur, Telangana, Vijaywada, Surat, Rajkot, Bhopal, Coimbatore, Raipur, Ranchi, Faridabad, Noida, Ghaziabad and all over India.