Introduction :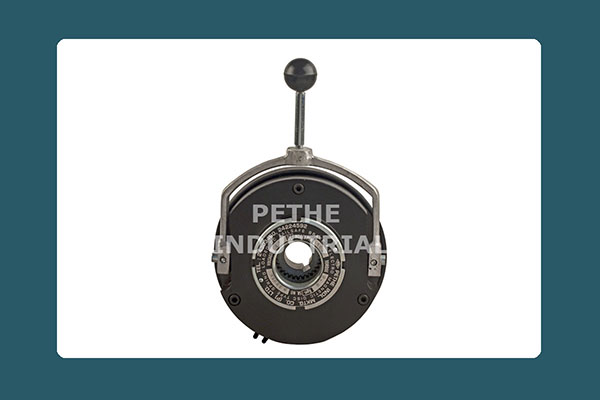 In the power OFF state the compressing springs press the armature disc and rotor against attachment surface. The geared hub is firmly locked on the shaft and rotor slides over the hub. On applying rated direct current voltage to the stator the magnetic field produced will pull the armature discs over air-gap towards stator against spring force. Thus the rotor is released allowing shaft to rotate. In the event of continuous power failure, the rotor can be freed by pulling the hand release of dead man type. The hand release goes back automatically to its original position and brake will immediately revert to its safe action.
Range :
Brake diameter 85mm to 300mm
Torque Capacity : 0.4 Kgm to 40 Kgm
Application :
All Material Handling and Lifting Equipments
Hoisting : electric wire rope Hoists and Crabs
Cross travel and Long travel : EOT / Gantry / Goliath / Derrick Cranes
Winches and Conveyors
Lifts and Elevators
Machine Tools
Wire drawing machines
Rubber mixing mills
Rolling mills
Sugar, Mining, Cement, Textile industries to name a few.
Brake Motors
Salient Features :
Our PEM Series DC disc brakes is widely used in SPM Machines.
This is a spring loaded normally ON Failsafe Brake.
Consists of Electromagnetic coils, Torque springs and Friction Liner, driving square / geared hub
Handle is provided for manual release. Also has a ring to adjust Torque.
Works on 24 / 190 V D supply.
Function is to bring to stop, moving / rotating machinery like motor / gearbox.
Holds / stops the load in desired place. Instant stop.
Robust design.
Consumes low power
Highly recommended for inching operations.
Electromagnetic Disc Brake DC With Handle supplier and manufacturer
Pethe Industrial Marketing Company Pvt. Ltd. is the leading manufacturer and supplier of Electromagnetic disc brakes dc with handle in Mumbai, Maharashtra, Gujarat, Delhi, Pune, Bangalore, Chennai, Ahmedabad, Kolkata, Baroda, Hyderabad, Latur, Nagpur, Udaipur, Telangana, Vijaywada, Surat, Rajkot, Bhopal, Coimbatore, Raipur, Ranchi, Faridabad, Noida, Ghaziabad and all over India.