Introduction :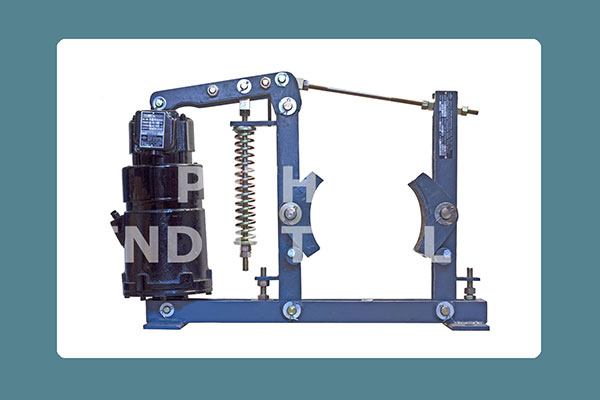 Thruster brake is a device to retard the speed of moving machinery and to stop it accurately to the desired position. The braking force is applied to the brake shoe by a pre-stressed compression spring. The shoes press on the rotating brake drum retarding its speed and finally stopping it. The releasing of the brake and compressing of the spring is done by the Thruster. The thruster shoe brake has a pair of cast iron shoes which are lined up with friction pads. The shoes are hinged on the main arm and the side arm of the brake, each of them having a hinge pin fitted in the base.

They are connected to each other on top by a tie rod, which is hinge in the main arm and locked to the swivel block in the side arm, by a lock nut. A crank lever is hinged on the main arm, and the other end is fixed to the top clevis of the thruster by a hinge pin. A brake spring is fixed on the main arm and is pre-locked by a lock nut on the lever. The pre tension in this spring decides the braking torque. The thruster is fitted on the base by a hinge pin. When the thruster is not energized, the brake shoes are pressed on the brake drum fitted on the drive motor shaft and hold it under the effect of braking force provided by the spring.

In such a condition, the brake is applied and the drum cannot rotate. When the thruster motor is energized, the thrust provided by the thruster lifts up the crank lever which moves the arms and the shoe brakes away from the brake drum, and releasing the braking force. The spring is compressed and braking energy is stored for the next cycle.
Range :
Drum diameter 100mm to 600mm
Thruster Capacity (Kg) : 18, 34, 46, 68, 114
Torque Capacity : 6 Kgm to 580 Kgm
Application :
All Material Handling and Lifting Equipments
Hoisting : electric wire rope Hoists and Crabs
Cross travel and Long travel : EOT / Gantry / Goliath / Derrick Cranes
Winches and Conveyors
Lifts and Elevators
Salient features :
This is a spring loaded normally ON Failsafe Brake
Consists of Electro Hydraulic Thruster, Torque Spring and Liner riveted to Brake Shoes
Works on 415 V AC, 3 Phase, 50 Hz supply.
Requires Transformer Oil to be filled in the thruster cylinder.
Function is to bring to stop, moving / rotating machinery like motor / gearbox.
Holds / stops the load in desired place. Instant stop.
Prevents jerk due to soft stop.
Maintenance free, robust design.
Electro Hydraulic Thruster Brake supplier and manufacturer
Pethe Industrial Marketing Company Pvt. Ltd. is the leading manufacturer and supplier of Electro Hydraulic thruster brake in Mumbai, Maharashtra, Gujarat, Delhi, Pune, Bangalore, Chennai, Ahmedabad, Kolkata, Baroda, Hyderabad, Latur, Nagpur, Udaipur, Telangana, Vijaywada, Surat, Rajkot, Bhopal, Coimbatore, Raipur, Ranchi, Faridabad, Noida, Ghaziabad and all over India.