Introduction :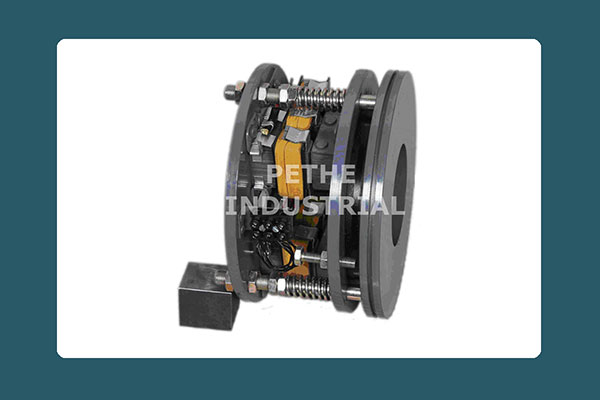 These brakes are also called Normally ON type, failsafe spring loaded disc brakes. Very compact and modern in design. Foundation is not necessary as they are mounted directly on the non-driving end shaft of the motor. It consists of liner plates (friction disc) with square hole at the centre. One corresponding piece of square hub is supplied with the brake. This hub is keyed to the motor shaft and liner plate is free on the hub. Normally, liner plate is gripped between two discs with the help of spring pressure.

When current is supplied to the brake, one disc is attracted by electromagnet against spring pressure and the liner plate is released. Thus the brake is OFF. Once the brake is set it does not require adjustment or maintenance. When the liner plate wears with the use, then only air gap is required to be maintained periodically. Arrangement to release the brake manually is also provided.
Range :
Torque Capacity : 2 Nm to 200 Nm
Brake diameter 130mm to 320mm
Application :
All Material Handling and Lifting Equipments
Hoisting : electric wire rope Hoists and Crabs
Cross travel and Long travel : EOT / Gantry / Goliath / Derrick Cranes
Winches and Conveyors
Lifts and Elevators
Machine Tools
Wire drawing machines
Rubber mixing mills
Rolling mills
Sugar, Mining, Cement, Textile industries to name a few.
Brake Motors
Salient Features :
Popularly know as DAT Brakes
This is a spring loaded normally ON Failsafe Brake.
Consists of Electromagnetic coils, Torque springs and Friction Liner, driving square / geared hub.
Works on 415 V AC, 2 / 3 Phase, 50 Hz supply.
Function is to bring to stop, moving / rotating machinery like motor / gearbox.
Holds / stops the load in desired place. Instant stop.
Robust design.
Consumes low power
Highly recommended for inching operations.
Electromagnetic Disc Brake (A.C.) supplier and manufacturer
Pethe Industrial Marketing Company Pvt. Ltd. is the leading manufacturer and supplier of Electromagnetic disc brake (A.C.) in Mumbai, Maharashtra, Gujarat, Delhi, Pune, Bangalore, Chennai, Ahmedabad, Kolkata, Baroda, Hyderabad, Latur, Nagpur, Udaipur, Telangana, Vijaywada, Surat, Rajkot, Bhopal, Coimbatore, Raipur, Ranchi, Faridabad, Noida, Ghaziabad and all over India.